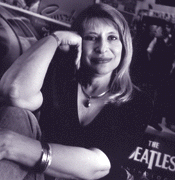 Jay Fram
Sherre Birenbaum of Disc-Connection: "We'll always sell major artists like Clapton and REO, but then there's the people who come in with their list after the Klassics show on Sunday."
As new waves of musical taste and style crash onto the beach of public consciousness every year, the layers of residue left behind get thicker and thicker. Even when they fade from the charts, genres never really go away. The number of adherents may rise and fall, but most popular music styles of the past century (Dixieland, noisecore, Philly soul, cowpunk -- the list could go on all day) will always have their armies of true believers.
This process is helped along by a host of developments in the music industry. As major labels consolidate -- often dropping artists and loosening up some of their less-profitable back catalog -- smaller outfits are increasingly filling in the gaps. Reissue CD labels, be they general like Rhino Records or specialized by genre, are busily working to get every record ever made back in print. This vast and bewildering diversity makes it possible for true fanatics of a certain style to focus ever more narrowly on their obsession; if you're into '60s rocksteady or '50s bel canto, you can easily drop your entire music-buying budget on nothing but that.
And it turns out that tech nerds and rock & roll are on the same side: The Internet has made it easier than ever before to feed esoteric musical habits. The photocopied fanzine and passed-around mix tape have been supplemented and largely supplanted by Web sites, eBay and MP3 files. Musical adventurers with Web access can, within minutes, find whole communities of like-minded listeners, swapping knowledge on rare records and reissues.
The landscape of the music industry is evolving into something that resembles the music industry of, say, the 1940s: A few enormous corporations release profitable mass hits, while a legion of specialized regional and individual labels keep their particular musical flames burning. This model has worked in the punk-rock scene for, oh, 20 years now, and the punk scene owes its continued existence to its independence from the whims of corporate accountants.
And so begins the tale of the classic-rock underground. To the hippest among us, it may seem odd to consider classic rock an underground commodity. Even today, with the music far from the mass-media spotlight, St. Louis boasts three major radio stations devoted to it, and the gods of its pantheon still embark on lucrative tours every few years (Eric Clapton, Robert Plant and Jimmy Page, the Rolling Stones). Classic-rock reissue packages and boxed sets still bring in a decent piece of change. In this top-down view, classic rock is as commercial as ever. But if the superstars are doing fine, what about the lesser lights, the utility infielders of the classic-rock league? Whither the hardworking, shaggy-haired, leather-fringed rock band with a couple of regional '70s hits to their names? And, just as important, what about their fans? Do the major labels have anything to offer these people?
Frankly, no. So they're doing it for themselves. And St. Louis is, in many ways, the hub of it all, thanks largely to KSHE (94.7 FM). From its inception in 1967 as the first FM station to play rock music in St. Louis, KSHE followed an iconoclastic and unusual programming strategy. Alongside the standard-issue Led Zep and ZZ Top chestnuts, the station has long featured lesser-known acts, eventually building a large playlist of what are now called "KSHE Klassics." A recent listener to the KSHE Klassics show (8 a.m.-noon Sundays) would have found a surprisingly eclectic batch of classic-rock obscurities: the synth-based prog-pop of Ambrosia, the leaden boogie of Foghat and -- what do you know -- the Clash's 1980 LP track "Police on My Back."
Scott Davis, the Little Rock, Ark.-based Webmaster of the Classic Rock Homepage (rockclassics.tripod.com), has compiled a master list of such chestnuts by hundreds of artists ranging from Ace to Zephyr. A quick perusal of the list reveals many a KSHE favorite: April Wine, Nektar, Missouri. Each gets its share of KSHE airplay.
"I don't want to plug KSHE too much," says Davis, who grew up in St. Louis, "but there's no other station in the country like it. Where else will you hear artists like Touch, String Driven Thing, Earthquake or Diesel? In a lot of cities, you mention one of these groups or artists, and you get a blank look." During the genre's '70s heyday, these acts reached broad mainstream audiences in St. Louis while remaining cult pleasures elsewhere. And, as Davis says, when these fans traveled to other cities, they'd discover that the music they grew up with in St. Louis went unheard elsewhere.
Sherre Birenbaum was one of those fans. In the late 1970s, she decided her master's degree in sociology wasn't going to lead anywhere satisfying, so she began selling LPs at record shows. By 1981, she was able to open Disc-Connection in Maplewood, a store specializing in obscure rock in the classic style -- which, by the way, Birenbaum likes to call "heritage rock" after a Rolling Stone story on KSHE. The KSHE audience, along with fans of local acts like Pavlov's Dog, came to know Disc-Connection as a reliable source for their faves. A large "Wall of Classics" display heralds rare, collectible and recommended discs and serves to jar the memories of the store's graying clientele. The general impression, regardless of the observer's musical taste, is of a store run by people who enjoy the music they sell.
"We'll always sell major artists like Clapton and REO," Birenbaum says, "but then there's the people who come in with their list after the Klassics show on Sunday. Sometimes they don't know the song title or the artist, but if they pick out a line or two, I can usually identify it.
"We put up the wall as a sort of memory-helper. For example, say we just got something in by, I don't know, Tucky Buzzard. Who's going to think to go looking through the T's for Tucky Buzzard? But if you look up on the wall, maybe you'll say, 'Hey, I had that album in 1975.'"
Some of the acts that Birenbaum cites as big sellers would challenge the recall of the most ardent rock encyclopedist. Trooper, anyone? How about the Pousette-Dart Band? The fans are out there, all over the world, and they're willing to pay for their pleasures. Birenbaum says Disc-Connection's Web site (http://www.discconnection.com/) routinely receives orders from Europe and Australia. The Pavlov's Dog connection helps; the mid-'70s records by the St. Louis band have been highly collectible since the band's demise, and the CD versions are likewise coveted by a small but rabid cult that is thinly spread around the globe.
Birenbaum got to know her customers so well that she decided to venture into the business from the other side. In 1998, she and her husband founded Bedrock Records to reissue some of the lost albums that classic-rock listeners were dying to own. The first Bedrock project was a reissue of the 1974 album The Wonder of It All by Chicago country-rock band Heartsfield. The album's laid-back, Pocoesque approach and novel six-part vocal arrangements yielded KSHE hits like "Shine On" and "Racing the Sun" and made it one of Disc-Connection's most sought-after albums. "They headlined the 1974 KSHE birthday party," Birenbaum remembers. "Kiss opened for them!"
As Bedrock went through the process of clearing the rights to the album, band leader J.C. Heartsfield took notice and gave Birenbaum a call. "He said, 'Who are you, and why are you doing this?'" Birenbaum says. "He was kind of suspicious at first." But when Birenbaum convinced the band to come to St. Louis for the launching of the CD, the large, devoted turnout inspired the band to re-form. Bedrock now distributes several of the band's '70s albums on CD.
Birenbaum had a similar experience with the label's second project, the Minneapolis prog-rock band Gypsy, known for such early-'70s prog workouts as "Gypsy Queen" and "As Far as You Can See, as Much as You Can Feel." Davis rates Gypsy as one of the most underrated bands from the period. "These guys had everything going for them in their music," he says, "great lyrics, tight harmonies and excellent instrumentation. There was no other group that sounded close to them in the early to mid-'70s. Unfortunately, they never got the promotion and support to make it really big."
"Their albums were so rare," Birenbaum says. "They'd go for over $100." She called band founder James Walsh, and he had the same reaction as Heartsfield: a little confused, a little suspicious and a little flattered. Like Heartsfield, the band reunited after a well-attended CD-release party. Bedrock was turning from a museum into a going concern, with an active roster of bands.
"We thought we were kind of a dead label, just doing reissues," Birenbaum says. "But to actually go live -- we just never thought.
"It's a chance for these guys. They know that it's by no means going to be their primary form of income. But they get to play a few times a year."
Showing, again, this scene's surprising eclecticism, Birenbaum then waxes rhapsodic about Paul Collins, the late-'70s power-popper who led Paul Collins' Beat. "He's such a sweetheart," she says. "He's a true original who's never gotten the respect he deserves. He created power-pop." In the standard rock history, power-pop was a reaction to the very bands that Bedrock reissues, a return to three-minute verse-chorus tunes. But that just goes to show how far away New York, LA and London are from places like St. Louis. In the ears of KSHE Klassics listeners, Paul Collins' Beat and the Clash fit snugly alongside Mason Proffit and Black Oak Arkansas.
"There are all kinds of styles," Birenbaum says, "prog-rock, psychedelic rock, folk-rock. The fans are all just people who never let the feeling die."
Though she's clearly proud of Bedrock Records, Birenbaum does seem a little puzzled as to why she has to be the one putting these records out while major labels mostly ignore this audience in favor of horny 14-year-olds. "OK, you won't sell millions of records," she admits. "But it's missing the boat to ignore these people." The sociologist in her comes out. "We're talking about baby boomers here. They have money to spend, and they will buy the music they like."
The hip-hoppers may sneer, the punks may laugh and the teenagers may not even notice, but people like Birenbaum and Davis will keep doing what they do. The next time the nagging riff from Doucette's 1977 KSHE hit "Mama Let Him Play" comes over the car radio, remember this: It might not be your thing, and the band's not even from here, but you're listening to part of St. Louis.




Article Copyright © 2000 The Riverfront Times
Page Copyright © 2000 The Classic Rock Homepage
This page created on Tuesday, June 06, 2000.
Most recent revision Tuesday, June 06, 2000.